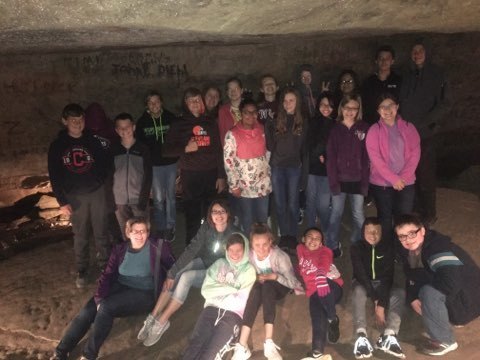 5th - 8th Grades Go To Seneca Caverns
Jennifer Riffle and Traci Mozina
Friday, October 11, 2019
The 5/6th grades are learning about geology - different rocks/minerals and where they are found as well as what can be created with them. The 7/8th grades are learning / have learned about water and the effects of water on the earth.

On the field trip, the 5th-8th grades were split into two groups. One group went on a tour of the cave while the other group was mining for gems and shopping in the gift shop. After about an hour, the groups then flip-flopped. They also enjoyed a picnic lunch while there.
The history of Seneca Caverns is very interesting. It was discovered in 1872 by Peter Rutan and Henry Komer while they were hunting rabbits with their dog. Suddenly, their dog disappeared into a brush pile. The dog had fallen into a sinkhole! The Caverns were later explored more and developed by Don Bell when he moved to Bellevue and opened it commercially on May 14, 1933. Seneca Caverns is one of Ohio's largest underground caverns, and one of America's most fascinating geological wonders. It was created when the gypsum layer underneath two other layers of rock was dissolved, and the upper two layers started to fall and then cracked . . . Hence the term on their sign, "The Earth Crack." This is one of the few caverns around created this way. Most caves are created by water erosion, volcanoes, wind erosion, etc.
We are so glad our 5th - 8th grades had the opportunity to see this part of God's wonderful creation!